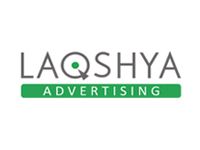 Laqshya Advertising is a full service, INS accredited advertising agency capable of providing 360-degree communication solution. 19 years young, it has expertise in handling diverse clients. Over the years, Laqshya has built upon the experience of servicing clients with different profiles like retail, corporate, ministries, government and the public sector which in turn has bestowed Laqshya with the proficiency to propel a wide spectrum of brands to top positions in the marketplace.
It has a presence in 22 cities, capable to take brands to every nook and corner of the country. With its specialized verticals, Laqshya has the capability to handle events, exhibitions, digital, outdoor, PR, print & electronic media campaigns on its client's behalf.
Besides, drawing upon a strategic mix of young creative talent and seasoned marketing, strategy, planning, production as well as media professionals, makes Laqshya an effective communications partner. In fact, considering the clutter in the market, the Laqshya team, with its concerted endeavors, consistently thinks laterally and develops solutions that work and help brands that stand out.