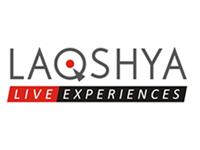 After its launch in 2014 as an integral part of Laqshya Media Group, Laqshya Live Experiences has leveraged the portfolio of services offered by them. While offering designs and service experiences that align perfectly with customer's needs, LLE has managed to become one of the most cardinal jewels to the Laqshya Family's crown since its inception.
The operations of LLE is based out of their 3 key offices in Mumbai, Delhi & Bangalore, along with 20 other cities. Having an enormous reach, along with operational strength and grasp in the wide market, it gives hope for even a brighter future ahead.
In terms of experience, LLE boasts of over 500 events, and more than 100 happy clients as a team, under its belt. The core values created by a great camaraderie at work, due diligence, passion and commitment, lays the foundation of LLE. These values go on to develop a new, delightful and unforgettable brand and consumer experiences along with offering diverse and vibrant staff skills. These skills are embedded in each department, which is necessary for a contemporary brand experience.