Amazon Celebrated Prime Day With VR Kiosks
12 Aug 2019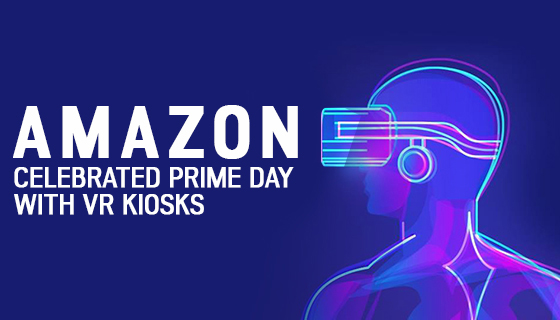 What shopping looked like a decade ago is as further away from today as it can get. And, it is changing faster than ever now. If you ever wanted to know how the future looks like, take a look below! VR has seeped into our daily lives and trial rooms will soon never be the same again! This is just the beginning of what is to come. Are you ready for the Virtual Reality to be your reality?
Once upon a time, shopping meant going into a physical store, dragging a lot of clothes into a fitting room or putting products into a cart, and having a person ring up your items when you were done. Then came online shopping, allowing us to purchase anything from laundry detergent to luxury sunglasses from the comfort of our homes.
Two recent experiments point the way to a possible retail future by attempting to combine on and offline shopping behavior. They feature virtual reality experiences and seemingly magical mirrors that suggest items to go with your clothing choices.
To promote June 16 as a Prime Day shopping event,
Amazon opened 10 virtual reality kiosks
in shopping malls across India. This VR experience is practically an in-store ad for online shopping, namely on Amazon.
Shoppers were invited to don Oculus Rift headsets with full tracking. Their immersive VR experience was kicked off by a virtual hot air balloon ride that drops them off in a city filled with Amazon Prime products.
Once they land in that virtual city, they see rooms that feature different offerings including beauty products, kitchenware, and toys. Shoppers can check out the items as if they were in a physical store.
Using Oculus Touch controllers, shoppers can pick up any object and see it in 3D. Clothing can be placed on holographic mannequins, and tech devices can be examined from all angles, with pop-up windows providing specs.
"The Amazon VR and shopping AI experiences help to normalize this kind of retail. But sometimes technology can go too fast for people. There are limitations to what they will adopt into their routines. "
Chelsea McLemore, Creative Director, UX Design and Strategy, R/GA