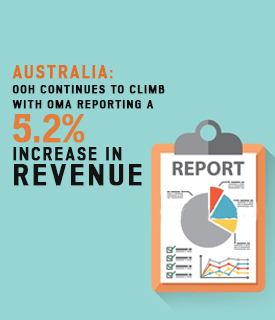 Australia: OOH continues to climb with OMA reporting a 5.2% increase in revenue
13 Aug 2019
After a 5.9% jump in Q1, the Outdoor Media Association (OMA) is reporting another climb in net media revenue year-on-year for the out-of-home (OOH) industry in Q2.
According to figures released by OMA, the industry posted $237.3M for Q2 2019, up from $225.6M for the same quarter in 2018.
The body is reporting digital revenue sitting at 55.5% of total net media revenue year-to-date, compared to 49.8% last year and 55.1% last quarter.
Charmaine Moldrich, OMA CEO, said the results reflect the strength of the OOH industry.