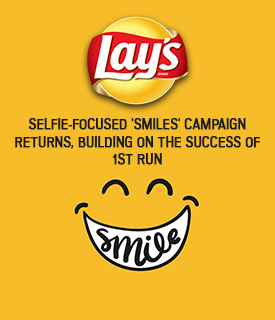 Lay's selfie-focused 'Smiles' campaign returns, building on the success of 1st run
12 Aug 2019
After the successful 1st run last year, Lay's decides to bring back its 'Smiles' campaign helping kids born with cleft situations with surgical procedures. This innovative concept brought enough engagement to Frito-Lay a year ago and about 700 people posted selfies everyday with the product. This is a marketing achievement and other brands should note and learn how to tap on cause-driven marketing while supporting and passing on a positive message.
Dive Brief:
Lay's is bringing back its limited-run "Smiles" packaging featuring photos of real people smiling following a successful first run of the concept last year, according to details shared with Marketing Dive. The special bags of Traditional, Wavy, Lightly Salted, Poppables and Kettle-Cooked Lay's will be on shelves nationwide by July 28.
For the second iteration of the campaign, created with agency The Marketing Arm, the Frito-Lay brand will spotlight 32 "Everyday Smilers" working toward improving their communities. One includes Paige Chenault, who runs a nonprofit called the Birthday Party Project that puts on birthday parties for homeless children. As with last year, Lay's will donate $1 million total toward Operation Smile, which helps provide surgeries to children born with cleft conditions. Facebook content the brand produced with Operation Smile last year received a 14% engagement rate, 12 points higher than the industry average, per a press release.
Lay's also claims that the initial "Smiles" push led to 700 selfies posted per day with bags of the brand's products across an eight-week run. The #SmileWithLays campaign hashtag was featured on more than 30,000 tweets and 10,000 Instagram posts during that period, and a special Snapchat filter averaged 21 seconds of play time and resulted in 2.8 million shares, or a share rate of 13%, according to Lay's.