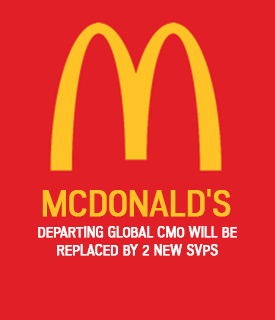 McDonald`s departing global CMO will be replaced by 2 new SVPs
12 Aug 2019
McDonald's CMO Silvia Lagnado, working since 2015, is departing from the company, leaving behind a requirement for two new SVPs. One will be for marketing, and the other for marketing tech. It is a nod towards digital marketing, and clearly reaffirms the growing availability of customer data and the smart technology for the purpose of targeting, personalization and attribution and the growing role of tech and data in marketing departments.
Dive Brief:
McDonald's Global CMO Silvia Lagnado is leaving the company, which will not name a new global CMO, according to a report from Ad Age. Lagnado has been with the company since 2015 and will depart in October.
A message announcing the departure was sent to McDonald's employees on Monday by CEO Steve Easterbrook, per the report. Lagnado's tenure included creating a universal visual identity for McDonald's 35,000 restaurants and delving into understanding customers through data.
Two newly created marketing positions will be filled by current employees in the wake of Lagnado's departure. Colin Mitchell will be SVP of global marketing, and Bob Rupczynski will take on the role of SVP of marketing technology.