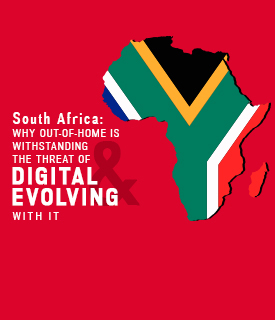 South Africa: Why out-of-home is withstanding the threat of digital and growing with it
13 Aug 2019
With digital and mobile continuing to grow its market share, most traditional mediums have seen their slice of the pie cut dramatically, but not out-of-home, according to Jacques du Preez, CEO of leading South African and African out-of-home media owner, Provantage Media Group.
I recently reviewed some research conducted by MAGNA Intelligence, the well-respected US-based resource on advertising and media, which presented the historical and projected share of global advertising revenue by media channel, and it made for some very interesting reading.
Of all the media platforms, it seems that out-of-home and radio have been more resilient in surviving the digital storm, with radio predicted to decline by just 2% and out-of-home 1% over the same period. Interestingly, cinema, which is classified as out-of-home, is predicted to be extinct by 2020.
If one drill down a bit further, the MAGNA numbers show that traditional out-of-home will have declined by 1% by next year, while digital out-of-home will retain its market share of 1% of advertising revenue over the same period.