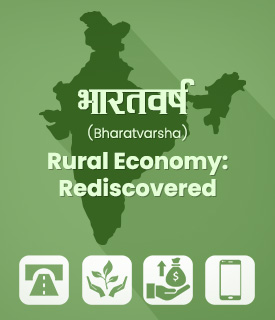 Bharatvarsha - Rural Economy: Rediscovered
22 Jul 2020
To download the main report, click here.
The following four modules provide in-depth details of the Bharatvarsha report. You can click the respective icons to download these reports.
Report Synopsis
There has been record output of food grains in 2019-20! With a steadily. increasing rural income, the rural markets accounts for 57% of the overall HH expenditure. What are the opportunities that the Indian rural sector presents for brands today?
INDIA
is the World's Largest Producer of:
Milk: 187.7 million tons (2018-19)
Pulses: 25.3 million tons, 25% of global production
Jute, Castor Oil seed, Sunflower Oil seed, Cottonseed, Ginger,Banana, Mango, Papaya, Lemon & lime, Okra
Motorcycle market (Globally 1st and Rural key) - Sales of the India market exceeded 20 Mn units in 2016, with more than 50% being bought by Rural India
World's highest-selling Tractor brand (by vol) - M&M
IFFCO is the world's largest fertilizer cooperative, connecting over 2.5 crore farmers and cooperatives
India has the world's largest parcel of cultivated land @ 15.64 crore hectares, 52.6% of total land area
Livestock Popn (Globally 1st) - 300+ Mn 2019
India is
World's 2nd Largest Producer
of:
Rice, Wheat
Tea, Sugarcane, Groundnut, Cotton
Silk
Vegetables & Fruit - Accounting for 10.9% and 8.6% of the world's fruit & vegetable produce, respectively & including Onion, Potato, Garlic, Cauliflower, Brinjal, Cabbage
Onion, Potato, Garlic, Cauliflower, Brinjal, Cabbage
India's Fertilizer Consumption - Globally 2nd and Production is Globally 3rd
World's 2nd largest producer of Cement - 320 Mn tons - Rural housing accounted 38% of the consumption vs 32% by urban housing
Agriculture's contribution to the Indian Economy:
GDP contribution (2018-19) - 17%
Total Employment generation - 45%