The 2nd wave is heading out. Traffic jams are coming in.
26 Jul 2021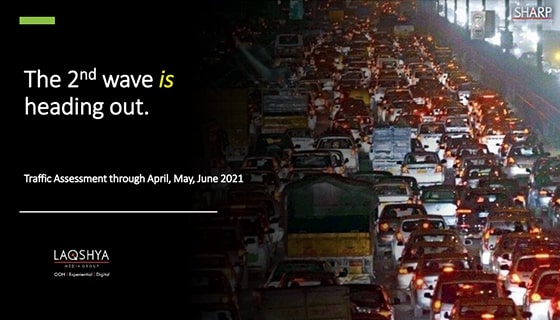 Mumbai, 22 July 2021 Laqshya Media has done a comprehensive study on travel times in the top 9 cities of India from 8 April 2021 to 30 June 2021. This will help brands and marketeers understand that the 2nd wave of Covid-19 is heading out, as are the customers. Hence, this is the right time to invest in OOH media and ensure that their brands reach the target audience, where they are right now! Indians started to relax and avoid precautions from January 2021 onwards and this led to the 2nd wave hitting us with a double whammy. All cities recording the lowest congestion between the 19th April and 16th May, due to the 2nd lockdown. But now, with the easing of lockdowns pan India, people are out on the road again leading to increase in traffic jams.
Mumbai and Pune are back to or have exceeded the congestion index of March 2021. Mumbai has seen a ~75% increase in travel times from the lockdown lows. Pune's traffic shows an evident increase seen in the mornings, especially due to lockdown restrictions in the evenings.
Delhi is currently at an index of 84% of peak. The roads has seen an increase in time and a huge jump in density.
The Silicon Valley of India, Bengaluru is also back with WFH getting over for most companies. Travel time from Yeswanthpur to Indiranagar has shown an incredible increase of ~80% both in the mornings and evenings.
Hyderabad has seen an increase of ~45% in traffic numbers.
Patna's has also recorded 20% increase in traffic.
Kolkata's traffic is on its way to pre-lockdown numbers.
Bhubaneshwar's traffic is also returning to normal. There is an increase of ~15% in traffic in both mornings and evenings.
The red lines on Google Maps are back and this gives consumers more time to gaze at Billboards!
Atul Shrivastava, CEO, Laqshya Media Group says, "Travel time is the most 'visible' indicator of traffic. As suggested by the data in the report, travel times are back to, or have exceeded, pre-lockdown numbers! Everyone is waiting for things to get back to normal and with lockdown restrictions easing pan-India people are out on the roads for work, meeting family and friends and even for shopping. Inter-city travel has also increased. We are witnessing traffic jams again, everywhere and this gives consumers ample time to gaze at billboards! So, this is the right time for brand presence in OOH Media to occupy the mind-space of their consumers."
About Laqshya Media Group – Established in 1997, Laqshya is an award-winning integrated communications group in India. The enterprise is identified by its unparalleled contribution in the 'Out of Home' advertising space. For more than two decades, the group is engaged in offering highly diversified and innovative media solutions to the who's who in the market. Some of the clients in outdoor advertising include Tanishq, Nykaa, LG, YouTube, Zee etc.