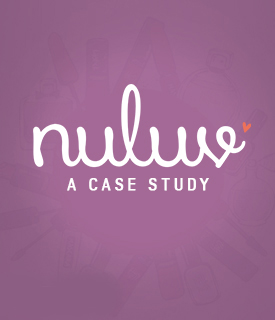 Nuluv: A Case Study
12 Aug 2019
Nuluv is a brand which enabled many Indian households to have easy access to best organic, natural and chemical free baby and mama products. They also established themselves as a source of curated content on any topic related to motherhood and baby. It was widely accepted and celebrated across the globe after its launch. Big celebrities from all around the world like Drew Barrymore, Alyssa Milano and Zoe Lister Jones are vouching for the wide range of products on their social handles. Over a short span of time, this brand has managed to take over the babycare and motherhood products and has crafted a new high in this league.
What were our Challenges?
Our objective was to build the brand from scratch to portray the right feel of the brand in the perfect tonality while creating content for the blog section which is self-sufficient and credible for the expecting parents or existing parents. Our challenges lie in creating a brand from scratch, managing all handles, i.e. social, content, ad campaigns, website development, etc. of the brand. The competition was tough with the big brands like The Bump, Parenting, etc. which already has a grip over the internet. Our main goal was to curate cumulative content for the brand ranging from blogs, articles, banners, newsletters, emailers and social media campaigns.
What were the Results?
In-depth research was conducted with a close connection to Webmed, National Center for Biotechnology Information (NCBI), American Medical Association, etc. to curate over 400 well-researched articles and blogs, which are presently live in the website and is being read all over the globe.
Nuluv emerged as the latest and most well acknowledged motherhood and baby care brand with a positive response from big celebrities and big names from all over the world.
All the articles posted on the website are aesthetically appealing due to images curated and also were well-formatted in a standardized manner.
What was our Approach?
Created the whole brand image with the USP of the brand in mind.
Did photo research to match those articles from Shutterstock, and chose the ones which suited each article the best.
Created website content, in addition to the blogs, which included the taglines, Homepage and About us page.
Created over 50 e-mailers and newsletter formats for the brand for various brand promotional activities and conversations with the customers like anniversary sale, out of stock, etc.