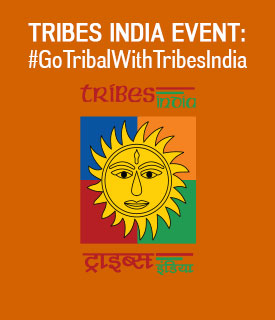 Tribes India Event: #GoTribalWithTribesIndia
19 Aug 2019
Tribes India is the Govt. of India Initiative functioning under the wings of the Ministry of Tribal Affairs for the welfare of over 700 Indian tribes. They thrive in their purpose to empower and celebrate the rich and varied tribal artistry. The event is to institutionalize collaborations and partnerships with different organizations in order to promote tribal products. There was the launch of "Go Tribals Campaign by Tribes India" under which several innovative activities have been planned to be undertaken to encourage the use of tribal handicrafts, handicrafts, and natural products. There was also the Global Launch of "Tribes India" through Amazon Global Selling, under which Tribes India and Amazon Global Marketing launched TRIBES India products globally through Amazon.com.
What was the Objective?
Our objective was mainly absorbed in the following stabs- Build, Educate, Engage and Leverage
Build the brand [B2B, B2C – H2H]
Educate [SEO, SMO, and super strong content marketing]
Engage [bloggers/brand evangelists, PR, SMO, SEO, Advertisements (search, social, display)]
Leverage [Advertisements, Campaign/s, SEO, SMO]
What were the Results?
The tweets earned 151.3K impressions under 28 days period.
Total fans increased by 23.8% on Facebook.
Social campaigns and SEO increased new visitors and also the returning visitors on the web.
Fourteen bloggers from different communities were present on the event day.
There was an outreach of 200000+ on the event day.
What was our Approach?
Tagging, tags, related copy were added more value.
A wide variety of posts done on Social Media (Carousel, Videos, 360-degree Shoot, GIF, Images, Albums, Live)
Rich media content to Excite, Educate and Engage with the end goal to build the brand and create awareness around the brand.